Towards Resilient Communities With Health, Equality And Safety For All, (TORCHES)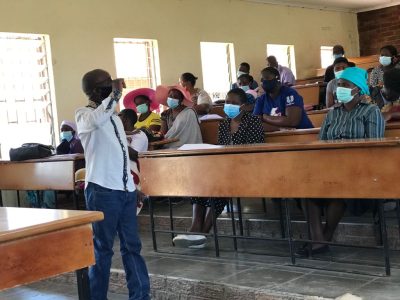 Violence against girls and women is a major concern among adolescent girls in Zimbabwe. This negatively impacts on girls' and women's ability to maximise and reach their potential. In Zimbabwe, 1 in 3 women and adolescent girls have faced physical or sexual violence. Women, adolescent girls and PWDs in Zimbabwe face violence in their communities and challenges in accessing most of their needed essential support. Worldwide girls and women with disabilities are three times more vulnerable to Violence Against Women and Girls (VAWG) than their non—disabled sisters. A UN Women (2015) report noted that 60%—80% of women with disabilities globally have suffered sexual violence in their lives. One LCDZ project report adds that the majority of sexual abuse cases occur in closed family settings. Some survivors with disabilities may not understand what is happening or may not be able to effectively communicate the assault. The few who realize that they are being abused may, for unawareness of their rights, fail to view the abuses as criminal acts, leading to a low reportage of relevant cases and low conviction rates.
Through support from the players of People's Postcode Lottery, ActionAid, Family Aids Caring Trust (FACT) and the Forum for African Women Educationalists Zimbabwe (FAWEZI) and LCDZ work with women and girls through their schools and communities to end violence and champion the rights of women, adolescent girls and persons with disabilities. This is done through wide ranging activities centered on awareness— raising and efforts to strengthen and create demand for effective referral networks. In the project the partners aim to create communities where women and girls are free from violence and have amplified voices and agency. This will be achieved by successfully fostering personal reflection about power relations, nurturing power within, and amplifying girls' voices in schools and communities in Shamva, Chitungwiza and Nyanga. The project uses the Tuseme model to create safe spaces for girls in and out of school and enable them to speak out about the issues that impact their lives and the SASA Together model in work with whole communities to prevent violence against women and amplify their voices. Tuseme (which means 'let us speak out') is a participatory theatre-based approach in schools to create safe spaces for girls and boys to take action for gender equality and transform social norms, which centres on the empowerment of adolescent girls while on the other hand SASA! Together is a community mobilisation approach to prevent violence against women and girls which uses participatory activities in communities (such as community conversations, posters and communication materials and street theatre)to encourage individuals, communities and institutions to question imbalances of power and the acceptance of violence against women.
 If you represent an organization, business, or institution, consider partnering with us to implement disability-inclusive practices and create accessible environments. Together, we can make a broader impact and drive positive change.