THE HOME OF


Prostheses,

Orthoses ,

Surgical Footwear

and All Assistive Technology
The Leonard Cheshire Disability Orthopaedic Center is expanding its capacity and scope. The unit adds new technology to its product range every year, aiming to provide a comprehensive service for the disability community. The unit fabricates and produces high-quality and comfortable prostheses, orthoses and surgical footwear that enable optimal function for persons with physical disabilities. Our Orthopaedic Center offers a variety of wheelchairs, walking aids, commodes, and other mobility support devices of excellent quality. Our workshop has modern equipment and skilled staff that allow us to deliver reliable and efficient services in a short time. The unit prioritizes the patients' needs, using advanced procedures, in a clean and safe space with enough room for their care and comfort. Our fitting rooms are designed to ensure privacy and patient involvement in their care plan. Located at the edge of the CBD, the center has plenty of free parking space, making the workshop easy to access.
Prosthetics
A prosthetic limb is an artificial replacement that substitutes for part of the body that may have been missing at birth or that is lost in an accident or through amputation. A prosthesis is designed for functional and cosmetic reasons and can play an important role in rehabilitation. For many people an artificial limb can improve mobility and the ability to manage daily activities, as well as provide the means to stay independent.
The main goal of prosthetic limbs is to replace as much function of the original limb as possible. At the very least, a prosthetic limb should help an amputee take care of necessary daily activities such as eating, walking and being able to get dressed on their own. Highly advanced prosthesis allows amputees to live productive lives. These new prostheses are changing the lives of people who have lost limbs in car crashes and work accidents or through other serious injuries and diseases.
Routine skin care while using prosthetics is crucial to maintain the skin's protective function. Any neglect may lead to painful ulcers and serious infection, which affects rehabilitation, comfort, and mobility. At Leonard Cheshire Disability Orthopaedic Center we specialize in external orthopaedics for both upper and lower limb prosthesis.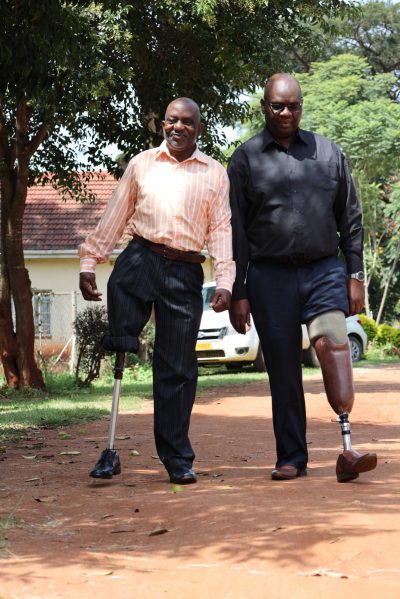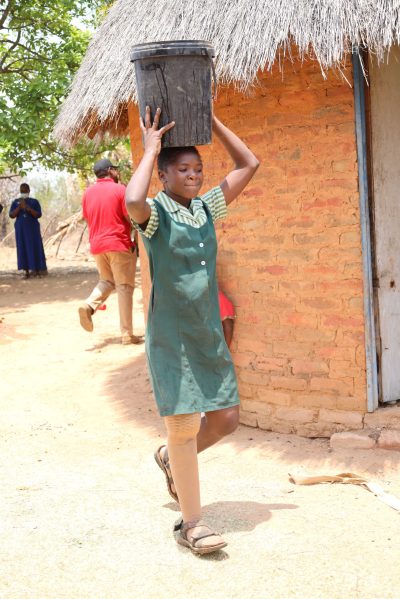 Lower limb prosthetics
A lower limb prosthesis refers to a prosthesis that replaces any part of the lower body to restore the functional and/or cosmetic purpose of that lower body part. This may include artificial components that replace the hip, thigh, knee, ankle and foot. The lower limb prosthetic services offered at Leonard Cheshire Disability Orthopaedic Center include:
Ankle Disarticulation/ Symes
Partial Foot/ Chopart
Knee Disarticulation/ Through Knee
Hip Disarticulation
Transtibial/ Below Knee
Transfemoral/ Above Knee
Upper limb prosthetics
Upper limb prostheses can be applied anywhere from the shoulder joint down to the fingers, including the fingers, the hand, the wrist, the forearm, the elbow, the upper arm, and the shoulder.
Time is of the essence when dealing with upper limb amputation and prosthetic restoration. Delay in initial prosthetic fitting and training is a major factor for prosthetic rejection.
A well-made prosthesis can last anywhere from averagely two to three years. However, the lifespan of a prosthesis will depend on several factors, and it varies for each patient. Amputees can opt for prosthetic limbs that only serve a cosmetic purpose, that are attached by harnesses or belts or that are worn using sockets with suction systems.
When you are not using your prosthetic limb (when you go to bed or when you are taking a bath), make sure to place it at a safe and balanced level where it will not drop to the ground or be constantly disturbed. At night remove the valve and allow air to circulate freely within the socket and do not drape clothing over the socket. For upper limb prosthesis, we offer the following:
Trans Radial
Elbow Disarticulation
Trans Humeral
Shoulder Disarticulation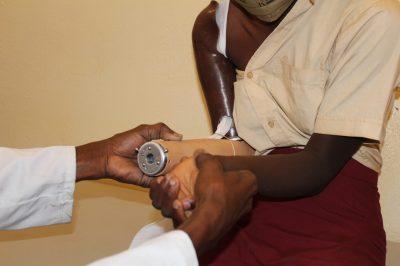 Orthotics
An orthotic device is designed to improve biomechanical function, encourage proper joint alignment or to protect an existing limb. It is a brace, splint, or other artificial external device serving to support the limbs or spine or to prevent or assist relative movement. Custom orthotics provide cushioning and support as they redistribute the pressure your feet experience with everyday activities. Orthotics also help prevent pressure ulcers and other foot abnormalities. It improves posture and allows one to walk farther or stand without pain for longer periods of time while preventing a person's feet from rolling excessively inward or outward.
At Leonard Cheshire Disability Orthopaedic Center we offer three different types of orthoses which are:
Lower limb orthoses
Shoe Raise
Foot Orthosis
Hip Orthosis [HO]
Knee Orthosis [KO]
Ankle Foot Orthosis [AFO]
Knee Ankle Foot Orthosis [KAFO]

Hip Knee Ankle Foot Orthosis [HKAFO ] 
Upper limb orthosis
Elbow Orthosis [EO]
Shoulder Orthosis [SO]
Wrist Hand Orthosis [WHO]
Shoulder Elbow Hand Orthosis [SEHO]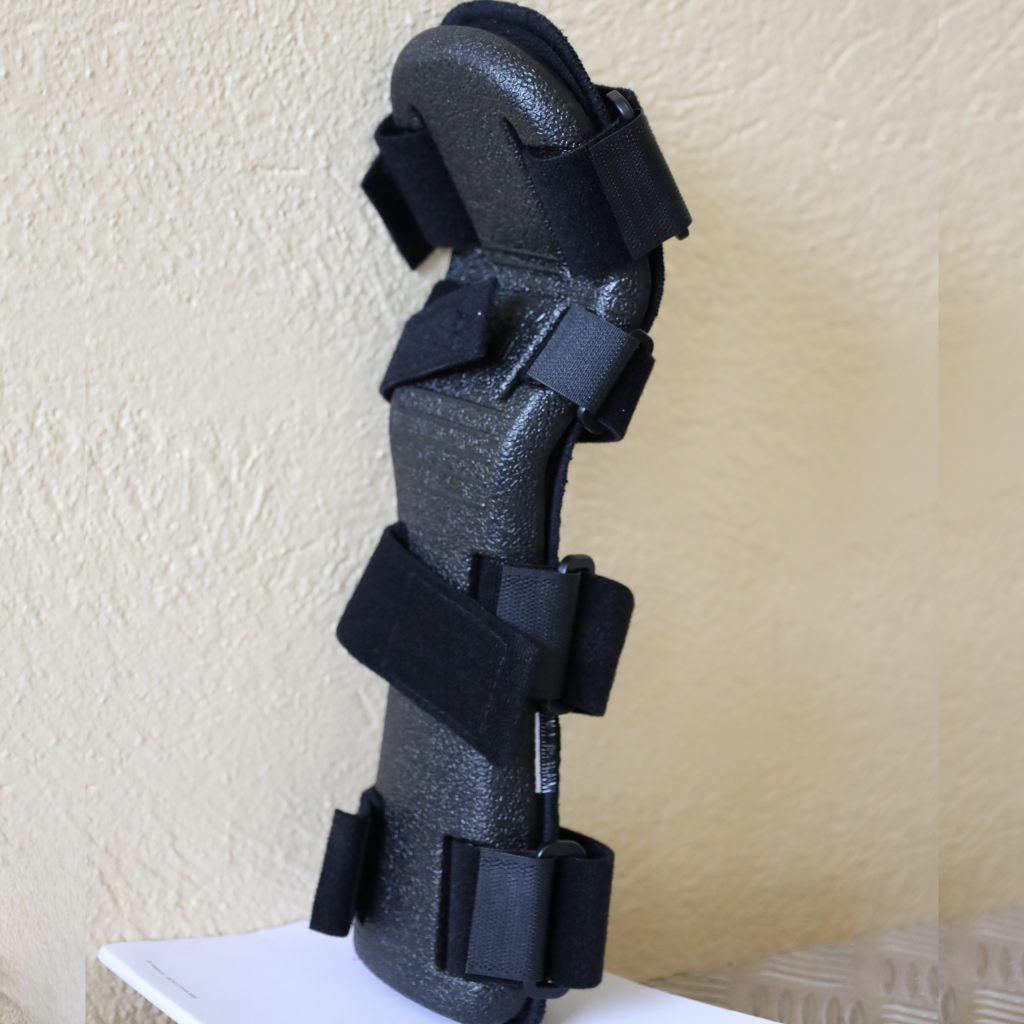 Spinal orthosis
Cervical Orthosis [CO]
Lumbo Sacral Orthosis [LSO]
Thoraco Lumbo Sacral Orthosis [TLSO]
Cervico Thoraco Lumbo Sacral Orthosis [CTLSO]
Finger Orthosis
A wheelchair is a manually operated or power-driven device designed primarily for use by an individual with a mobility disability for the main purpose of indoor or outdoor activities. One of the most common disabilities that require a wheelchair is spinal cord injuries. Injuries to the spinal cord lead to different types of impairment depending on the area of the spine that has been injured.
Elderly people can also be found to be wheelchair users. The disability of the elderly could be due to lack of energy, joint problems like arthritis or osteoporosis. Even with assistance, doing simple tasks like getting into and out of bed or just moving around becomes a very difficult task.
Using a wheelchair when necessary can prove to be very advantageous because in addition to providing mobility, an appropriate wheelchair benefits the physical health and quality of life of the users by helping in reducing common problems such as pressure sores, progression of deformities and improve respiration and digestion.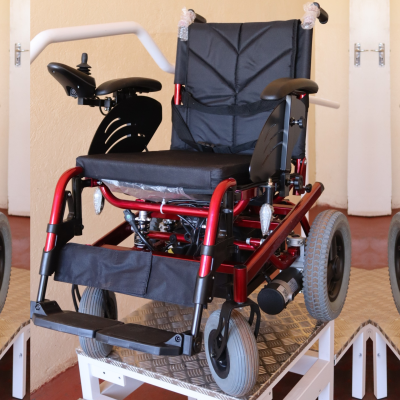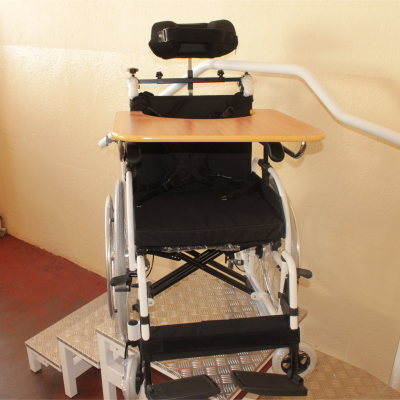 Adapted wheelchairs
After carefully carrying out assessments and having noticed the different disability variations in our wheelchair users, we also specialize in wheelchair modifications and adaptations which are unique to every user. These adaptations offer the user more freedom when it comes to mobility and independence, while giving them the best in comfort.
Assistive devices are external aids that are designed, made, or adapted to assist a person to perform a particular task. Many people with disabilities depend on assistive devices to enable them to carry out daily activities and participate actively and productively in community life. They are any product or service designed to enable greater independence for persons with disabilities. Common examples of such devices that we offer range from wheelchairs, scooters, walking aids, white canes, bath aids, commodes, adjustable beds and rollators. Different disabilities require different assistive technologies.
Having an assistive device promotes independence and autonomy, both for the person using them and those around them. Assistive devices reduce the need for formal health and support services, long-term care and the work of caregivers. Without assistive technology, people are often excluded, isolated, and locked into poverty, thereby increasing the impact of disease and disability on a person, their family, and society.
 If you represent an organization, business, or institution, consider partnering with us to implement disability-inclusive practices and create accessible environments. Together, we can make a broader impact and drive positive change.